Angela McLaren appointed first female Commissioner of City of London Police
Angela McLaren is set to be appointed as the new City of London Police Commissioner, following her election at the Court of Common Council at Guildhall today (July 22).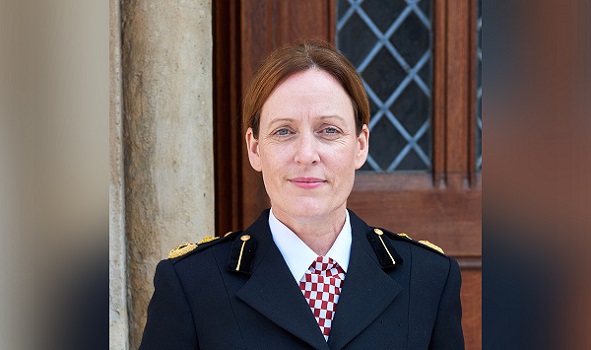 The appointment, which is subject to Royal Assent, will mean the force has a female Commissioner for the first time in its 182-year history. She will join a growing number of recently appointed female chief constables at forces around the country, including Merseyside, Warwickshire, West Mercia and Avon and Somerset.
She will replace Ian Dyson, who announced his planned retirement after 38 years of service in policing, with six of them as Commissioner.
Ms McLaren started her career with Fife Constabulary in 1996 where she served in several operational and community roles up to the rank of chief inspector.
In 2013, she was appointed project manager for the Pathways to Policing Project at the Scottish Police College and, on promotion to Superintendent in 2014, was posted to D Division, Tayside, where she held various portfolios.
In 2015, she was promoted to chief superintendent and appointed divisional commander of Fife Division where she led various operations and events. She was later selected to lead a team to produce the first long term strategy for policing in Scotland.
In June 2018, she was promoted to assistant chief constable responsible for operational change and resilience, a portfolio which included the Digitally Enabled Policing Programme and Strategic Design Authority.
In June 2019, Ms McLaren became the executive lead for organised crime, counter terrorism and intelligence before joining the City of London Police on promotion in December 2020 to the newly created role of assistant commissioner responsible for the economic crime and cybercrime.
Chair of the City of London Corporation's Police Authority Board, James Thomson, said: "Angela's robust professional policing credentials, evidence of strong leadership, and a strong commitment to equality, diversity and inclusion were among the many factors that singled her out from a strong field of candidates.
"She is a hugely experienced officer with a strong background in community policing, tackling national modern-day threats, and leading on strategy. Angela possesses a clear vision and an excellent understanding of what is required in leading the force, both, here in the Square Mile, and as national lead for economic and cybercrime.
"In welcoming Angela into her new position, my colleagues and I must also pay tribute to Ian Dyson for his outstanding and dedicated work as City of London Police Commissioner over the last six years, and for nearly 40 years of distinguished service as a police officer."
Ms McLaren said: "I am absolutely delighted to be selected as Commissioner for the City of London Police. Since joining this unique force, I have been warmly welcomed by staff, officers, the City of London Corporation, and a whole host of partners and stakeholders.
"I now look forward to building on Ian's work, taking the force forward with colleagues to deliver a policing service that is trusted, engaging, and professional, across the Square Mile and beyond, and delivered by a diverse and inclusive workforce."
Mr Dyson said: "It has been a privilege to lead the City of London Police over the last six years. I am continuously impressed by, and grateful for, the dedication and commitment of each and every person who works for this organisation. They can be truly proud in knowing that what they do makes a huge difference for the people they serve.
"Over my time as Commissioner, we have faced challenging times, including the London Bridge, Borough Market, and Fishmongers' Hall terror attacks, and more recently, the Covid-19 pandemic.
"Throughout, I have been supported by an excellent team of chief officers and by a number of partners and stakeholders, who were invaluable as 'critical friends'. I would like to thank them all.
"I am delighted that Angela has been appointed as the next Commissioner of the City of London Police. With her experience and vision for the future, she is perfectly positioned to lead the force through the next phase in its history."