All ranks recognised for distinguished or gallant service
Twenty-two officers have received Queens Police Medals (QPMs) in the 2018 Birthday Honours.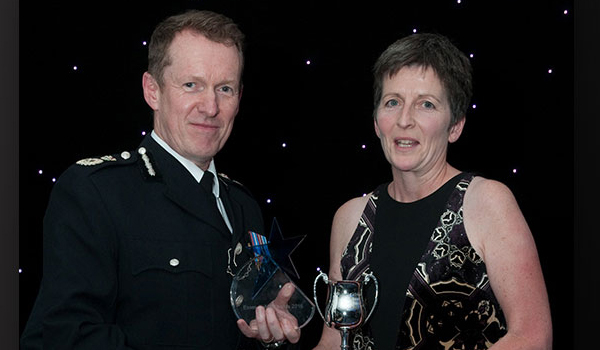 The awards for distinguished or gallant service were once again spread among all ranks following the intervention of then Home Secretary Theresa May in 2015 to insist there was fairer representation.
Five chief officers, seven superintending ranks, four inspecting ranks, three sergeants and three constables across the UK will receive the QPM.
All the chief officers receiving the award are from England and Wales.
Those receiving the honour include officers who have worked with young children through partnerships with local services. Former Sergeant Janet Bloomfield from Essex Police has been recognised after 18 years directly working with children and young people.
In 2016, the now retired Sgt Bloomfield earned Essex Police's Award for Supporting Vulnerable People after years of support to police colleagues and partner agencies, such as councils, housing providers, school staff and youth offending teams.
"She has promoted the ethos of not criminalising children and young people and finding the right solution for problems. She works towards reaching long-term resolutions for vulnerable victims, whether they be repeat victims of anti-social behaviour, or young people subjected to bullying. She believes in justice for victims, protecting the vulnerable and allowing children to make mistakes without those mistakes affecting them for the rest of their lives," the force said at the time.
Inspector Craig Rankine was appointed as the first National Programme Manager for the Police Scotland Youth Volunteers (PSYV) programme in September 2013.
The programme gives young people of all backgrounds a positive means of engagement with the police service. Through regular training and participation in community safety initiatives, youth volunteers are given opportunities to overcome barriers and discover their talents while making a positive contribution to their communities.
Under Insp Rankine's leadership, the programme has grown rapidly and now has a national governance structure with 29 police officers who run local groups across Scotland for 13-18 year-olds. There are currently 32 groups operating, involving over 1,000 young people. Approximately 25 per cent of the volunteers are recruited from vulnerable backgrounds.
Insp Rankine has played a fundamental role in ensuring PSYV's success. He has built strong relationships with partner agencies – including experts in youth work, Young Scot and Youth Link Scotland – to ensure the progression of the programme. He has also ensured the programme's sustainability by securing funding from the Scottish Government and support from industry leaders across the country and the force executive.
His personal commitment has directly contributed to the development of many young people and his outstanding leadership is widely recognised both within and outwith Scottish Policing.
PSYV has volunteered at a number of events across Scotland, amassing in excess of 30,000 volunteering hours nationwide. Its groups have received 595 awards, including 539 Saltire awards, for the number of hours invested in volunteering.
Its success has also been recognised globally, which has resulted in the police service in New Zealand requesting Inspector Rankine design a programme modelled on it.
South Wales Police, alongside the Metropolitan Police Service, has the highest number of officers (three) recognised with a QPM in the Birthday Honours.
Chief Superintendent Sally Ann Burke, with 30 years' police service, has been the head of South Wales Police's specialist crime department for the past five years dealing with serious, organised and major crime.
Chief Supt Burke set up the regional criminal assets recovery unit in 2003, which has taken millions of pounds worth of assets from criminals across South Wales. In 2009, she became the first ever woman in Wales to head up specialist crime.
Both her parents served with South Wales Police, and she now follows in the footsteps of her father, a former detective chief inspector as head of special branch.
Former Detective Chief Superintendent Paul Hurley retired as head of crime for South Wales Police after managing an extensive portfolio including public protection, the major crime investigation team, joint scientific support unit, covert operations management unit, intelligence and organised crime unit and the force economic crime team.
And Merthyr Tydfil Neighbourhood Sergeant Lindsey Sweeney also receives the QPM.
The full list of recipients is:
England and Wales
Former Sergeant Janet Bloomfield, Essex Police
Paul Brandon, Deputy Chief Constable, Kent Police
Chief Superintendent Sally Ann Burke, South Wales Police
Dean Haydon, Deputy Assistant Commissioner, Metropolitan Police Service and national coordinator for counter terrorism.
Former Detective Chief Superintendent Paul Hurley, South Wales Police
Sergeant Abed Hussain, Greater Manchester Police
Superintendent Helen Louise Isaac, City of London Police
Detective Chief Superintendent Russ Jackson, Greater Manchester Police
Stephen Kavanagh, Chief Constable, Essex Police
Neville Kemp, Assistant Chief Constable, Surrey Police
Detective Constable Geraldine McConaghy, Merseyside Police
Chief Superintendent Paul Terence Money, West Yorkshire Police
Former Detective Sergeant Hannah O'Sullivan, Metropolitan Police Service
Former Police Constable James Rentell, British Transport Police
Chief Superintendent Vicky Skeels, Cambridgeshire Constabulary
Detective Chief Inspector Peter Sparks, Metropolitan Police Service
Alistair Sutherland, Assistant Commissioner, City of London Police
Sergeant Lindsey Sweeney, South Wales Police
Police Scotland
Inspector Craig Rankine
Superintendent Suzie Mertes
Northern Ireland
Inspector Andrew Archibald
Detective Constable Paul Slaine