All home burglaries in England and Wales will be attended by the police, says NPCC
Police chiefs in England and Wales have committed to attend all home burglaries to ensure more of the crimes are solved and more offenders prosecuted.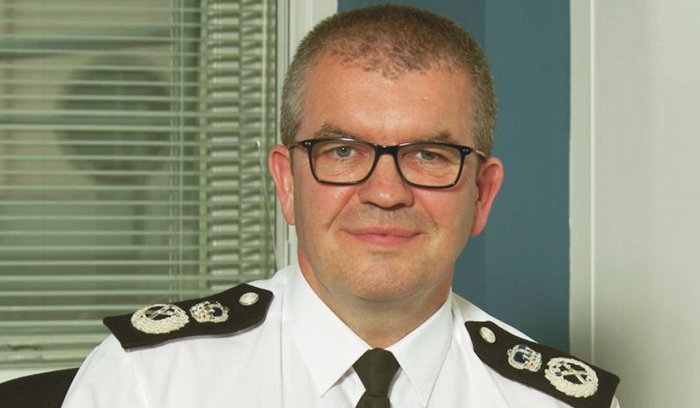 The National Police Chiefs' Council (NPCC) said the commitment will be implemented "as soon as practically possible".
Some forces already have a policy of attending all home burglaries. Others attend where it has been established that there are evidential lines of inquiry or where victims are vulnerable or elderly.
Police chiefs took the decision at a meeting last week after considering public opinion, His Majesty's Inspectorate of Constabulary and Fire and Rescue Services' (HMICFRS) report on acquisitive crime and reviewing a new rapid evidence assessment produced by the College of Policing on effective measures for solving burglary crimes.
The College of Policing, which sets the standards for policing, set out the benefits of officers attending domestic burglaries in a recent letter to all chiefs.
The evidence review shared by the college set out how rapid police attendance at scenes can increase victim satisfaction after a traumatic and invasive experience and help with investigations. It can also help with the prevention of future crimes in the area.
The college is setting new clear standards, making clear domestic burglaries should be attended, which HMICFRS will take into account in determining the efficiency and effectiveness of forces.
NPCC chair Martin Hewitt, said: "The number of burglaries is at an all-time low, down 51 per cent over the past decade due to increased investment by police and partners in preventing them happening in the first place.
"Wherever you live in England and Wales you can be confident the police will attend if you experience the invasion of a home burglary. This should see more burglaries solved and more offenders prosecuted."
He said chief constables will work to ensure this commitment is implemented as soon as practically possible. They will prioritise attendance where people's homes have been burgled, as opposed to outbuildings and garden sheds.
The NPCC and the College of Policing have written to the Home Secretary to inform her of the new standards and the decision of chiefs.
Chief Constable Andy Marsh, chief executive officer of the College of Policing, said: "Any intrusion into our home can be traumatic. It's not just the loss of possessions but the way a burglary can steal a person's sense of security from the place where they should feel safest.
"Officers across the country want to be locking up criminals and keeping communities safe. Our standards will help bring consistency to the police's response, enable them to get the basics right and deliver what the public expect."
NPCC lead for burglary, Deputy Chief Constable Alex Franklin-Smith, added: "Burglary has a significant and long-lasting effect on victims. Police officers up and down the country are committed to bringing more offenders to justice and this decision will bring greater consistency across England and Wales in the way we respond to, and investigate, offences of burglary.
"We will work closely with the College of Policing to improve investigative standards and we will continue to invest in the important preventative work with our many partners in an effort to keep offending levels at an all-time low."
Commenting further on the new commitment, Mr Hewitt said: "Some police chiefs have struggled to achieve attendance at all burglaries with limited resources and balancing an increase in complex and highly harmful crimes.
"But burglary is invasive and can be deeply traumatic. We want to give people the peace of mind of knowing if you experience that invasion, the police will come, find all possible evidence and make every effort to catch those responsible. That's a critical part of the contract between the police and public.
"We're also asking for the Home Secretary's help so police chiefs can focus more resources on solving crime and raising confidence.
"Firstly, we're asking government to seriously take on the vast widening of the policing mission. We want to focus more on solving crime. The public want the same. And so do politicians.
"But a National Audit Office report in 2018 showed that 64 per cent of emergency calls to the police were not about crime. Some are entirely legitimate police activity, but a substantial proportion see police stepping in to health and social work because of an absence of other services. We have been discussing this for years and there has been no meaningful change – there needs to be for us to improve crime rates.
"Secondly, we want to see a review of crime recording processes. Complying with the process is an industry in policing that takes officers away from neighbourhood policing and the subsequent statistics present a misleading picture to the public about the reality of crime. Right now, for crime recording purposes a burglary of someone's family home is treated the same as the loss of a spade from a shed. There must be a better way.
"Thirdly, we want to work across the policing system and with government to agree the core police services that should be delivered to a consistent standard across the country – with evidence and public priorities at the heart of our decision-making. We don't currently have this shared view of our core services and as a result priorities can change with the wind. With it, we can hold fast to an agreed mission the public can understand and support."
Association of Police and Crime Commissioners chair Marc Jones said: "We welcome the decision taken by police chiefs which will see police attend all home burglaries.
"As police and crime commissioners, we have been engaged with all policing bodies on this issue as we know that burglary is an incredibly invasive crime. We know how important prioritising action in this area is to the public.
"As part of this, we strongly support the view that the way in which crime is recorded must be reviewed. We must be transparent with the public and ensure the statistics reflect the true nature of crime occurring in our neighbourhoods.
"We also want to work with our partners to ensure that the role of our police service is made clear.
"The pressures on police forces, including from dealing with mental health issues, continues to have a profound impact on police resources, and this must be addressed if we are to ensure forces have the resources and ability to deliver on this commitment."