Addressing economic crime must be 'at the heart of modern policing', says Lord Mayor
The Lord Mayor of the City of London says the response to fraud must "be at the heart of modern policing".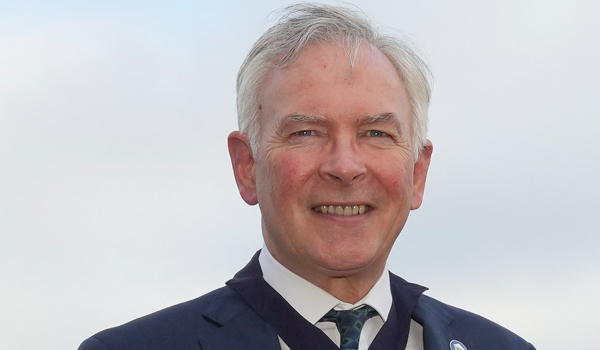 Speaking at the 40th International Symposium on Economic Crime in Cambridge, Nicholas Lyons said fraud, which makes up 41 per cent of crime in England and Wales, is "increasingly recognised as a national security threat, especially at a time when technological developments such as advances in artificial intelligence present so many more opportunities for deception and disruption".
He told the audience of leading international thinkers in tackling fraud that "preventing crime has to be at the heart of modern policing and the response to fraud is no different" – with "the huge scale of the threat posed" meaning that the whole of policing and the wider financial and tech sectors need to continue the good work they are doing to meet this challenge.
He said as the national lead force for fraud, City of London Police is "leading the fightback by working closely with local police forces and with national agencies", running Action Fraud, the fraud and cybercrime reporting service, and the National Fraud Intelligence Bureau (NFIB), which disseminates cases to police forces across England and Wales.
The Dedicated Card and Payment Crime Unit (DCPCU), a specialist unit made up of City of London Police and Metropolitan Police Service (MPS) officers, has already achieved industry savings of £750 million by preventing and disrupting fraud, Mr Lyons said.
And the City of London Police's Insurance Fraud Enforcement Department (IFED) has arrested and interviewed more than 2,700 suspects, securing over 1,000 convictions and cautions, and recovering assets worth almost £3 million for the victims of crime.
Mr Lyons highlighted how City of London Police and the National Economic Crime Centre are working on delivering the new National Fraud Squad, which builds on the Proactive Economic Crime Teams recently established in each region.
They have successfully undertaken more than 400 investigations in their inaugural year, including the UK's biggest ever anti-fraud operation, the MPS-led Operation Elaborate, which saw more than 100 arrests of scammers who were targeting almost 20 people every minute of the day through their website, said Mr Lyons.
The Lord Mayor added that alongside City of London Police, the City Corporation is boosting the wider criminal justice sector response to economic crime by investing £350 million in a new court complex in the city, with specialist facilities for economic and cybercrime cases.