'Adaptive' drug market proves resilient to Covid-19 disruption
A "dynamic and adaptive drug market" has proved resilient to Covid-19 restrictions, according to a new report published today (June 9).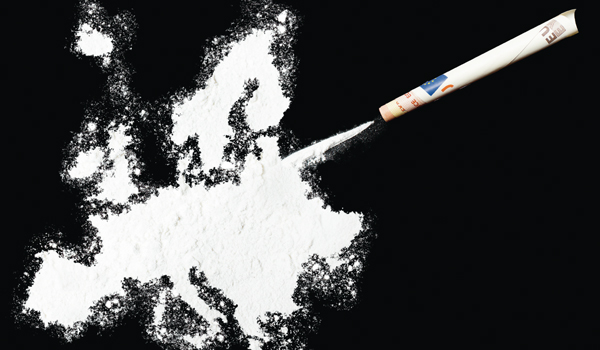 As well as record cocaine seizures a "concerning" total of 46 new psychoactive substances (NPS) were reported for the first time in Europe in 2020.
The EU drugs agency's (EMCDDA) European Drug Report 2021: Trends and Developments also highlights how organised crime groups have intensified illegal drug production inside Europe to evade anti-trafficking measures.
European Commissioner for Home Affairs Ylva Johansson said: 'Drugs are a persistent and ever-present threat, affecting the lives of millions. The European Drug Report 2021 provides the latest evidence on this vital issue, which corrupts the fabric of our society, fuelling violence and risking the health and security of our citizens.
"I am particularly concerned by the highly pure and potent substances available on our streets and online and by the 46 new drugs detected in the EU in 2020 alone."
EMCDDA director Alexis Goosdeel added: "The European Drug Report 2021 illustrates just how much the drug situation has changed over the past 25 years, with drugs now a highly pervasive problem, impacting across all major policy areas.
"We are witnessing a dynamic and adaptive drug market, resilient to Covid-19 restrictions. We are also seeing patterns of drug use that are increasingly complex, as consumers are exposed to a wider range of highly potent natural and synthetic substances."
The latest annual review of the drug situation in Europe says a "resilient and more digitally-enabled drug market" has emerged.
The report illustrates how the drug market continues to adjust to Covid-19 disruption, as drug traffickers adapt to travel restrictions and border closures. At wholesale level, this is reflected in some changes in trafficking routes and methods, with more reliance on smuggling via intermodal containers and commercial supply chains and less reliance on the use of human couriers.
Cannabis cultivation and synthetic drug production within the EU appear stable at pre-pandemic levels, with no decline seen in the detection of production sites, says the report. Although street-based retail drug markets were disrupted during the early lockdowns, and some localised shortages reported, drug sellers and buyers adapted by increasing their use of encrypted messaging services, social media apps, online sources and mail and home delivery services.
The EMCDDA warns that the long-term impact of the pandemic could see the further digitalisation of drug markets.
Organised crime groups intensified illegal drug production in Europe and a total of 370 illegal laboratories were dismantled in 2019.
A record 213 tonnes of cocaine was seized in 2019 (up from 177 tonnes in 2018). Cocaine purity has increased and preliminary seizure data in 2020 suggest availability has not declined in the pandemic, says the EMCDDA.
Earlier this year, German and Belgian authorities seized 23 tonnes of cocaine bound for the Netherlands – 16 tonnes were found at Hamburg port hidden in containers from Paraguay and another seven tonnes in Antwerp – in one of the biggest seizures ever recorded.
This came just a week after ten people were arrested in North London following the seizure of 2.3 tonnes of cocaine imported to the UK in a consignment of bananas – equivalent to more than half the quantity of cocaine seized by UK authorities in an average year.
Harmful potent new psychoactive substances continue to emerge, including new synthetic cannabinoids and new synthetic opioids, and the total number of NPS now being monitored by EMCDDA is 830.
And large volumes of heroin are still being seized in the EU (7.9 tonnes in 2019).
Specific concerns were also raised around the misuse of benzodiazepines, either diverted from therapeutic use or not licenced for medical use in Europe, which have been linked to poisonings and deaths. A rise in use of these drugs is seen among high-risk drug users, prisoners and some groups of recreational drug users, potentially reflecting the high availability and low cost of these substances and pandemic-related mental health issues.
Significant numbers of amphetamine production facilities were dismantled in 2019 as drugs gangs found demand made domestic production near consumers more profitable. Large quantities of chemicals used to manufacture amphetamine were also seized in the EU, including 14 500 litres of BMK and 31 tonnes of MAPA (up from 7 tonnes in 2018).
Both large-scale and smaller methamphetamine production facilities were also detected in Europe with large quantities of the drug being transhipped through the EU to other markets.
Mr Goosdeel: "We need urgently to recognise that, not only is a wider variety of people now personally experiencing drug problems, but these problems are impacting on our communities in a wider variety of ways. This is why I believe it is crucial, across the areas of social, health and security policy, to develop the evidence-based and integrated responses envisioned by the new EU Drugs Strategy."
The EMCDDA report describes the drug situation up to the end of 2020, based on data from 2019 and, where available, 2020.