Accident data: M6 is UK's deadliest motorway in past ten years
Britain's oldest motorway and its longest trunk road have been flagged up as accident blackspots, new figures reveal.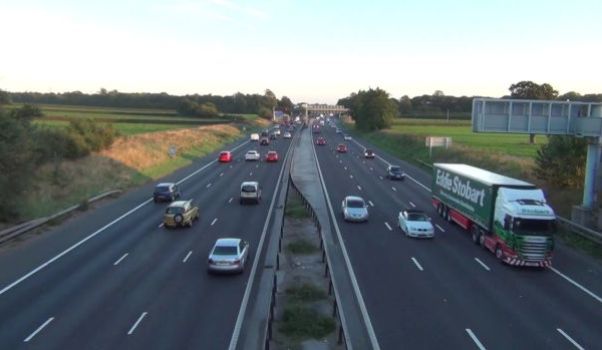 The M6 has claimed more lives than any other motorway in the UK in the past decade – despite racking up fewer collisions than the M1 and the M25.
And the A38 has registered more cars in crashes than any other road in Britain.
The data, obtained following a Freedom of Information request to the Department for Transport, looked at all reported road incidents on major UK roads between 2007 and 2016.
It found that 160 people were killed on the M6, exactly twice as many as those who died on London's infamous M25.
The 235-mile long M6 – which lays claim to being the UK's first motorway when the Preston by-pass was opened by Prime Minister Harold Macmillan in December 1958 – saw 7,342 accidents in the period, compared to 7,673 for the M25.
The M1, which opened a year later in 1959, had 154 fatalities with 91 deaths on the M5, ahead of the 80 recorded for the M25.
The analysis of more than 2,000 of Britain's motorways and A-roads revealed that the A38 is home to the most accidents.
The A38, with its 292-mile stretch from Bodmin in Cornwall to the borders of Scotland making it the longest two-digit 'A' road in England, had 8,698 accidents, the survey found – 360 more than any other road in Britain.
It also had the most cars involved in collisions – some 13,153 – which is ten per cent higher than any other A-road. But the severity of incidents was greater on the A1, the longest numbered road in the UK, with 172 people losing their lives over the decade, compared to 152 deaths on the A6 and 142 on the A40.
The survey did reveal less accidents on major roads – down a quarter – in the ten-year period. No one died in an accident on 35 per cent of roads analysed.
The safest motorway was the M49 in the Bristol and Gloucestershire area, with just 11 accidents – none of which were fatal.
The data also revealed that 2013 and 2015 were the lowest and second lowest years respectively for fatalities since records began.
The FOI request was made by motorcycle and classic car insurance broker Carole Nash which welcomed the year-on-year accident decreases.