A vision for 'smart' public safety
Motorola Solutions celebrated it 50th year in the UK by opening a new London Innovation Centre last month that will showcase how new software and services are empowering public safety.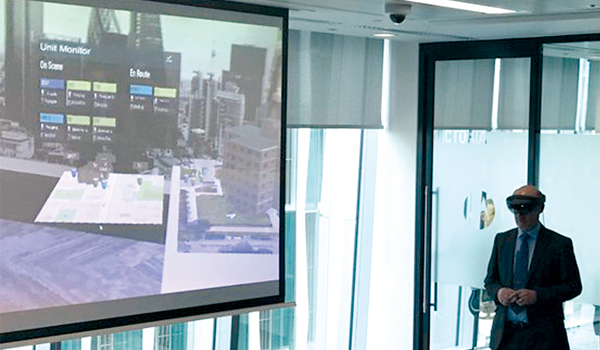 Motorola Solutions celebrated it 50th year in the UK by opening a new London Innovation Centre last month that will showcase how new software and services are empowering public safety.
It says public safety agencies are under enormous pressure in an ever-changing world – "threats are getting more complex, populations are growing, budgets are under pressure, and constant scrutiny is leading to even greater demands for accountability".
But Motorola Solutions believes the right information at the right time, supported by intelligent innovations can help relieve some of this burden.
"Automation can trigger a series of actions to make response times quicker, and big data can be analysed for trends and behaviours, to help identify the most significant and high priority threats," it says. "[And] the application of artificial intelligence (AI) in a public safety setting is transformative – enabling agencies to potentially predict incidents before they occur."
The new centre will set out a vision of smart public safety for a digital society, showcasing technologies such as its CommandCentral Analytics, which is used to support decisions on areas to patrol; It will also demonstrate how AI and natural language processing software can be used to help officers interact with backend systems and retrieve critical intelligence.
A future fire incident command concept will show how the use of mixed reality technology by an incident commander at the scene can improve situational awareness and the safety of firefighters.
It was demonstrated at the opening of the Innovation Centre by David Parry, Motorola Solutions' director EMEA marketing (below), and showed how an incident commander wearing an augmented reality headset is able to see a 3D map of the building in which the fire is taking place, track the progress of a search inside, and view 'live' video feeds from cameras worn by the firefighters, on drones flying above the incident and mounted on fire appliances. The commander can also monitor the status and location of response teams and the health of firefighters at the incident.
Motorola Solutions says technologies such as this "can empower public safety organisations to more effectively predict and respond to incidents – even before they occur".
They can also free-up time for public safety agencies. For example, in policing these solutions span before, during and after an incident, strengthening the chain of custody for evidence and ultimately helping improve the entire criminal justice system.
"Society is being transformed by technology, and public safety is too. Next-generation solutions can help public safety enhance workflow, boost efficiency and ultimately improve safety and outcomes," explained Eduardo Conrado, EVP, chief strategy and innovation officer at Motorola Solutions.
"Public safety organisations need not only the technology and tools to meet their evolving needs, but also a partner with specialised knowledge and experience to understand their challenges, find solutions and imagine new ways to get the job done."
Over the past decade, Motorola Solutions has seen its public safety innovation evolve from the pioneering mobile phones and systems of the mid-1980s, to introducing the world's first Tetra (terrestrial trunked radio) nationwide digital radio network, which is the basis for the Airwave public safety critical communications network that went live in 2005. Motorola Solutions completed its acquisition of Airwave in February 2016.
In 2015, Motorola Solutions was chosen to provide user services, system integration and critical functionality for the UK's next generation 4G LTE (long-term evolution) Emergency Services Network.
Pronto, a mobile applications suite provided by Airwave for workflows in the field, now underpins more than a third of the UK police forces. It provides remote, mobile access to all key policing systems, and as the technology has become more widely adopted, police forces have seen a dramatic increase in officer efficiency – from vehicle registration che