A 'future partnership of technology and policing'
Norfolk Constabulary is the latest force to begin using drones with the start of a three-month trial of the unmanned aerial vehicles.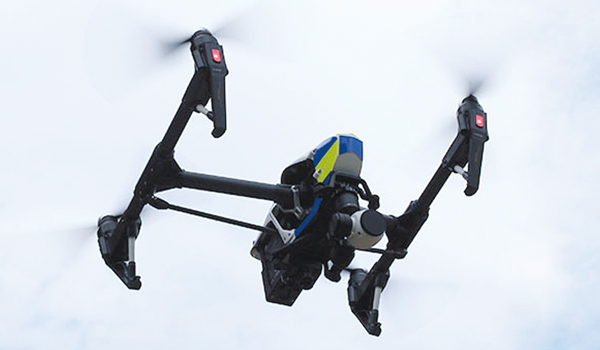 Norfolk Constabulary is the latest force to begin using drones with the start of a three-month trial of the unmanned aerial vehicles. Deputy Chief Constable Nick Dean said while the technology still has its limitations, "the option of launching a drone in the air in a few minutes could help save lives and secure evidence if a crime was in progress". "Drones offer many benefits that complement the National Police Air Service helicopter. This technology offers a highly cost-effective approach to help assist our officers," he added. The force has two drone units, which will be used to help in the search for missing persons, obtaining crime scene photography and investigating rural crime. Both have a 4K downlink, which means officers on the ground and in the contact and control room can see live footage captured by the drone in the air. It can stay in the air for up to 20 minutes at a time before returning to the operator to change batteries. The force says each drone has a number of batteries that enable them to be kept operational for a prolonged period of time if required. They have already been used during incidents across the county, including forensic photography at an industrial incident, firearms incidents and searches. Mr Dean said the drones will now be available to assist officers across the force area, adding: "While we're a long way off drones becoming standard kit in a police car, the early indications are they will be a positive contribution to the policing of Norfolk." Sergeant Danny Leach, one of four trained drone operators within the force accredited by the Civil Aviation Authority, said: "Every incident which requires air support currently costs the constabulary £1,320. Although the drones aren't suitable for every deployment, there are certain situations which they are perfect for. "To get the overall project operational it has cost less than £8,000, giving the constabulary the capability of two operational drones and four qualified pilots. "If we can successfully deploy to just six incidents we would have saved enough money to pay for them again." He added: "I firmly believe the drones represent the future partnership of technology and policing. If successful, which I am sure it will be, there are some exciting plans that can be developed to ensure a cost-effective, efficient and advanced police force." If the trial is a success, the force says the number of trained drone operators will be increased. Norfolk's police and crime commissioner Lorne Green said: "To tackle the crime affecting our communities in the 21st century, we need to look at the 21st century technology available to us." The country's first operational policing drone unit was launched by Devon and Cornwall Police and Dorset Police last month, with six drones operating across both forces.