£37 million cost of Extinction Rebellion protests a 'horrendous strain' on the MPS
Policing the Extinction Rebellions protests has cost the Metropolitan Police Service (MPS) £37 million this year, more than twice the annual budget of its Violent Crime Taskforce.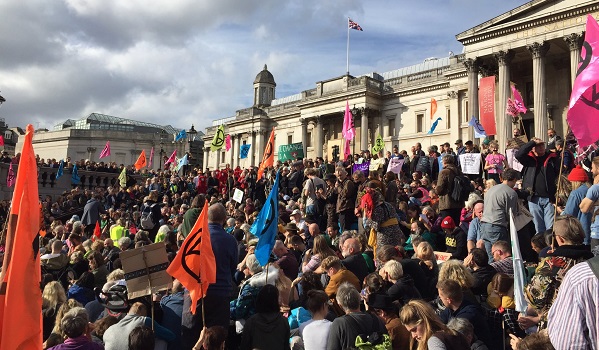 MPS Commissioner Cressida Dick said the two-week protest that finished last week had cost £21 million alone, a figure that was set to rise by several million pounds before the end of the month.
The bill included £3.5 million for overtime, just under £6 million for officers who were drafted in from 38 other forces in England and Wales, and £11.8 million staffing costs.
The cost of an earlier Extinction Rebellion protest in April has been calculated at £16 million. The MPS's Violent Crime Taskforce has an annual budget of £15 million.
Nearly 8,000 MPS officers were deployed during this month's action by Extinction Rebellion, with 21,000 asked to work 12-hour shifts for part of the fortnight.
Some officers were taken off local patrol duties and detectives were called in to cover frontline duties, while uniformed colleagues were diverted to central London.
A total of 1,828 protesters were arrested, of whom 164 have so far been charged.
In April, 1,148 activists were detained with more than 900 charged, most receiving a conditional discharge.
Speaking at a press conference on Tuesday (October 22), Dame Cressida said: "We are certainly at the point where I would say to Extinction Rebellion this is placing a horrendous strain on London, and on the Met and the people who pay for us."
She added that the protests had resulted in some inquiries and investigations taking longer because of a lack of resources and admitted that as a result, some inquiries were unlikely to be done at all.
She said she intends to ask the Home Office to cover the cost of the protest action.
Senior officers have been in talks with ministers about potential changes to public order legislation since the protests in April. These could include banning orders to stop activists who repeatedly protest unlawfully, and a new criminal offence of attaching items to the road.
Dame Cressida also revealed that counter-terrorism officers have foiled 24 attacks in the UK since April 2017. Sixteen of the attacks were Islamist plots and eight were inspired by extreme far-right views.
The updated figures were released on the day the Government launched a consultation on plans to increase the penalties for those convicted of terrorist offences.