21 football-related arrests in one day
Staffordshire Police has condemned the "despicable behaviour" by a large number of football fans at last night's (December 4) 'Potteries derby' that resulted in 11 arrests and more than 150 officers being deployed.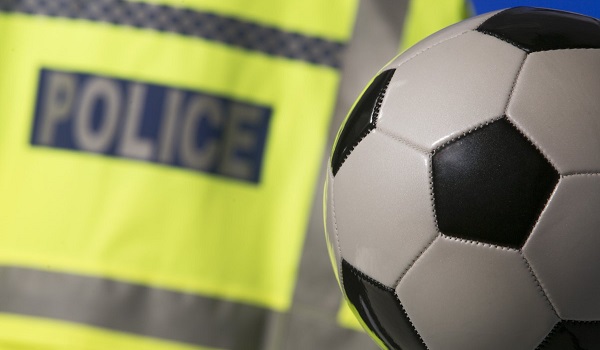 Two of those arrested have since been charged and three more people have been arrested.
Officers had to use public order tactics to restore calm as trouble flared throughout the afternoon in Burslem town centre and pubs were forced to close. 
And on the same evening, ten arrests were made at the so-called 'M23 derby' between Brighton and Hove Albion and Crystal Palace as fans from both sides clashed with Sussex Police officers. 
The Checkatrade Trophy fixture between Port Vale and Stoke City Under-21s was the first 'derby' since 2002. 
"Considerable damage" was caused to the away end at the Vale Park ground, as seats, toilets and windows were all broken, during Port Vale's 4-0 win 
"A very challenging op having to deal with mindless violence, disorder and damage," tweeted Assistant Chief Constable Emma Barnett. 
The 11 people arrested were all from the north of Staffordshire and aged between 18 and 61.  
Of the 11 arrested, two people were charged with using threatening or abusive language on December 5, and a further three men, all in their thirties, were arrested on the same day.  
Staffordshire Police said the disruption stemmed from "a large number of away fans".  
While the officer deployment was pre-planned, numbers were higher than usual because of the risk of unrest.  
The operation had begun in the early afternoon when Burslem town centre had to be cleared following outbreaks of disorder, with a mixture of public order, tactical, dog support and response officers deployed. 
Chief Superintendent Wayne Jones, commander for the policing operation, said investigations were ongoing to identify those responsible.  
"I would like to express my thanks to all the officers that helped us deliver a challenging policing operation," he added.   
"There was some despicable behaviour by a large number of fans, which has caused considerable damage to the away section of Vale Park.   
"We are taking this very seriously and I expect there to be more arrests in the coming days as we examine CCTV coverage and gather evidence of the crimes committed.
"My officers have shown bravery and dedication tonight and the support from stewards and partners has been first class in ensuring that those intent on fighting each other were unable to do so. 
"This kind of behaviour is not acceptable, and I would like to reassure you that we will do all we can to bring those responsible to justice." 
He added that he was grateful to local pubs working with the police and shutting early to ensure public safety. 
In a statement, the host club said: "Port Vale Football Club condemns the actions of those people who attended the game with the intention of not enjoying a football match.  
"Their actions were a danger to other supporters and match day staff and police, who were working to ensure that everyone could enjoy the match in a safe and friendly environment.  
"This type of behaviour by some people has no place in society let alone at a football match and Port Vale Football Club will work with Staffordshire Police and our neighbours Stoke City Football Club to ensure that those already arrested are punished appropriately through the courts. 
"We will also continue to work to identify others through CCTV footage and other means to ensure other culprits are also identified and brought to justice. 
"Referee Seb Stockbridge has included a number of incidents in his report and we will wait to hear back from the FA on those reports.  Repair works are being carried out now in preparation for our fixture against Cheltenham Town on the 15th December.  
"Football is a game for all and a game that should be enjoyed by all, in a safe and friendly environment. We will not tire to rid the game of those who seek to endanger the safety and enjoyment of those genuine supporters who love this wonderful game and we are also mindful and protective of those people who serve and work in the game to ensure the safety and enjoyment of all." 
The Premier League fixture between Brighton and Hove Albion and Crystal Palace, has a history of disorder and at last season's match around 150 travelling Crystal Palace fans had to be escorted to the train station by officers following clashes outside the Amex Stadium that left several stewards injured.  
Last night, four men were arrested in Brighton city centre, three at Falmer railway station and three at the Amex stadium – two of the arrests were for alleged common assault on an emergency worker. 
Supporters of both teams clashed with officers as they took trains to the ground. A small number of away fans were reportedly singing homophobic chants at Brighton fans, while some Crystal Palace fans attacked home supporters after breaking free from a police escort.  
Nine men, aged between 18 and 57, and a 17 year-old boy remained in police custody last night.  
The arrests were for offences including assault occasioning actual bodily harm, common assault, possession of a controlled Class A drug, being drunk and disorderly in a public place and throwing a missile onto a football-playing area.  
Crystal Palace supporters were again escorted to the train station after the match by officers, with some reportedly breaking free from the police escort and attacking home supporters.  
The latest unrest comes just weeks after a Home Office report showed the number of football-related arrests has fallen – down from 1,638 in the 2016/17 season to 1,542 in 2017/18.  
National Police Chiefs' Council football policing lead Deputy Chief Constable Mark Roberts warned at the time that such a reported decrease is "often pointed to as a positive indicator, however, in this instance it is not".  
He added: "The figures simply reflect the fact that over half of games are now police free or spotter only, so we do not have the resources available to make arrests. Instead, what we are seeing is a significant increase in disorder, particularly inside the stadium and an increase on attacks on stewards.    
"We are also seeing an increase in youth risk supporters, which is a concern. It appears some of the younger fans get used to attending unpoliced football matches, where their anti-social behaviour goes unchallenged and then leads on to violence, before they come to the attention of the police."    
"With a significant reduction in officer numbers nationally, we have to prioritise where we deploy our people, and we cannot subsidise a multi-billion pound industry to the detriment of our local communities."