£200 million of cocaine seized in major successes to counter drugs and firearms smuggling
A Border Force officer has been arrested during a crackdown on suspected international drug and firearm smuggling gangs.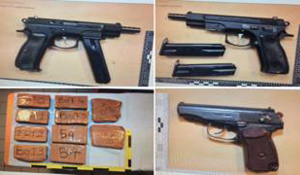 A Border Force officer has been arrested during a crackdown on suspected international drug and firearm smuggling gangs. The 36-year-old was detained by French police near Calais on Friday (October 6) along with three other British nationals who remain in custody. Officers recovered 11 handguns and revolvers along with magazines and suppressors from the scene. They also seized approximately 34 kilos of cocaine and seven kilos of heroin. Another eight men were arrested shortly afterwards by Metropolitan Police Service detectives across Kent. Six were charged with conspiracy to import firearms and class A drugs and the remaining two were released under investigation. The seizure marks the latest in a series of successes against suspected drug smugglers following a £200 million cocaine seizure in Spain. Dave Hucker, head of the National Crime Agency's (NCA) Anti-Corruption Unit, said: "This operation has brought together law enforcement from both sides of the Channel, and we believe we have prevented the importation of a significant quantity of class A drugs and firearms to the UK. "Our investigation is ongoing, both in the UK and in France." The arrest came the day after two men were found guilty of conspiring to import more than £9 million of cocaine into the UK with the help of a corrupt baggage handler at Heathrow Airport. Preetam Mungrah, 43, and Wilfred Owusu, 30, worked with baggage handler Joysen Jhurry to ensure suitcases containing drugs from Brazil were placed on carousels for domestic flights. The cases were then collected by couriers organised by Owusu, who could leave the airport without going through customs because they had arrived on internal flights. And on October 1, Spanish authorities acting on NCA intelligence intercepted a boat near Madeira carrying around 3,700 kilos of cocaine. The NCA estimates that if sold, the drugs could have had a value of more than £200 million. NCA spokesman Mark Blackwell said: "Seizing this quantity of cocaine represents a major disruption to international crime groups, depriving them of revenue potentially running into the hundreds of millions of pounds. "We're working with colleagues in Europe and around the world to disrupt organised criminals in any way we can, and to protect UK and European borders from attempts to smuggle illegal commodities through them."