18 officers injured during Armistice Day protests and counter protests
The Metropolitan Police Service (MPS) has confirmed that 18 police officers were injured policing two public order incidents on Armistice Day.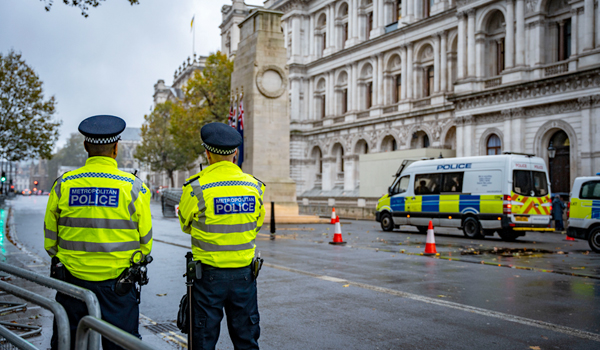 Among the injured were nine officers who joined the MPS operation on mutual aid from regional forces around England and Wales.
Of the 18 who were injured, 16 were a direct result of actions from the crowds.
Officers were spat at, pushed to the ground, punched, and hit by fireworks, bottles and other missiles, resulting in dislocations and broken bones, said the MPS.
Three officers were hospitalised and received treatment for their injuries, including a fractured elbow and a suspected dislocated hip.
The MPS said officers are continuing to examine hundreds of hours of CCTV recovered from several locations as part of an extensive post-event investigation.
The force has published images of 11 men suspected of a range of offences, including appearing to support proscribed organisations.
Sergeant Lee Smith, a MPS police officer, was stationed at Bridge Street whilst responding to suspected far-right protestors that had broken a cordon, and were advancing towards supporters of pro-Palestinian causes.
As police filled the gaps in the crowds to protect members of the public, Sgt Smith witnessed protestors throwing objects at his team.
He was struck in the face by a can of beer, which cut his mouth and split open his lip.
Sgt Smith said: "The can hit me and I stumbled back and it felt like I had been punched in the face. It was a really horrible situation, but I didn't want to go to hospital and leave my team.
"I looked around and could see a lot of our younger officers were worried, and it's not fair that they're subjected to that. We were isolated and holding the line, but I was proud of our officer's resilience when responding to the events over the weekend."
The MPS said officers involved in policing protests are encouraged to report their injuries, and are able to access further support and wellbeing services.
Superintendent Louise Puddefoot said: "Assaults on police officers should never be considered as 'part of the job', and incidents of verbal and physical abuse can have long lasting impacts on our hard-working front line staff.
"Our officers are working tirelessly day and night to help keep Londoners safe during these unprecedented times.
"Nobody deserves to be assaulted at work, and we have a zero-tolerance approach against assault, aggression, and verbal abuse for police officers who are trying to protect people from violence erupting in protest demonstrations."
"We will continue to support our staff over the next few days, and I would like to thank them for their commitment and dedication in protecting the Cenotaph and people of London."