'Unlocking potential' of technology
Derbyshire Constabulary has completed the digital transformation of its frontline officers with new smartphone-based policing applications to improve their visibility and efficiency.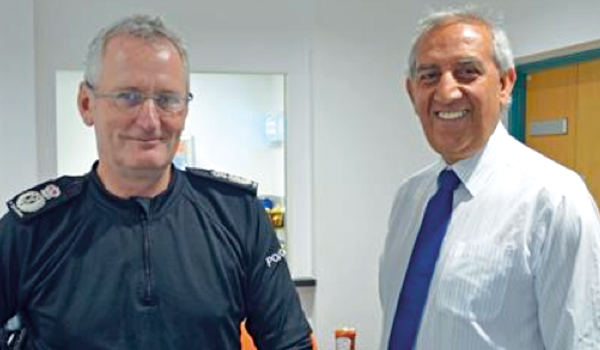 Derbyshire Constabulary has completed the digital transformation of its frontline officers with new smartphone-based policing applications to improve their visibility and efficiency.
The force says the mobile technology will transform paper-based tasks into efficient digital processes.
Some 1,600 devices have now been distributed to all police officers, detectives and police community support officers in public-facing roles across the force.
New recruits have also been issued with the 'smartphone' devices during their police training to ensure they are fully prepared for operational duty.
Between November 11 last year, when the roll-out began and March 21, officers took 1,287 witness statements on their new mobile devices, made 437 police officer statements, recorded 208 stop searches, recorded 290 written interviews, and updated 989 incidents via a mobile app.
Derbyshire Constabulary Assistant Chief Constable Chris Haward has described it as "the next generation of the familiar police paper notebook".
"Instead of travelling to and from the police station to enter information into systems from paper notebooks, the officers can send and receive information directly from the front line," he said when the project was launched.
"Our aim is to help our officers become more flexible than ever before, reducing the number of hours they spend in the office and making sure their time is being used in the most valuable way."
Airwave Solutions, part of Motorola Solutions, worked with mobile provider O2 on the programme, which is part of an ongoing drive to deliver flexible mobile working across the public sector
The smartphones will give officers access to Airwave's Pronto suite of mobile applications, built around common policing processes.
Airwave says its Pronto solution is a complete digital replacement for an officer's paper notebook, operational processes and forms. It provides remote, mobile access to all key policing systems, allowing officers to capture, reuse and validate information on the front line and synchronising it with back-office systems, dramatically reducing the form-filling process and allowing officers to process information anywhere and at any time.
Airwave says results from forces using the technology have shown that the electronic processing of 60,000 witness statements saved an average of 27 minutes and £42 per statement.
It adds that further time and cost savings are also achieved through the reduced error rate, "because Pronto applications contain purpose-built electronic forms with mandatory fields, which ensure data is entered in the correct format first time every time".
Derbyshire police and crime commissioner Hardyal Dhindsa said he was committed to working with the constabulary and partners to "maximise opportunities to upgrade technology and ensure officers were fully equipped to do their jobs effectively".
He said part of that commitment was "supporting the roll-out of a 'mobile office' idea to ensure officers could spend increasing amounts of time on duty without needing to go back to base".
"I'm delighted that just over a year since taking on this role we've achieved a full roll-out of this new technology for all frontline operational roles," Mr Dhindsa added.
"The software is having a really positive impact on efficiency by enabling our officers to access key computer systems, including crime reports, away from the station thus keeping them out on Derbyshire's streets.
"The public are now used to seeing the mobile devices on our streets instead of the traditional pocket notebooks and everybody has been very positive about their arrival and the benefits they will bring to community policing."
The mobile devices are managed on a secure, in-house network and can be remotely wiped to erase all police information when a password is entered incorrectly.
The technology is currently being used across 14 forces nationally, enabling officers to view and update incidents in real time.
Phil Jefferson, Motorola Solutions' sales vice-presid