'Unequivocal' apology to gay men convicted of historical sexual offences
The Scottish government has formally apologised to gay men who were convicted under abolished gross indecency laws.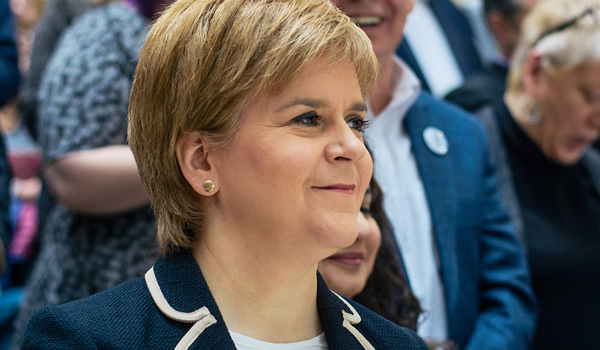 The Scottish government has formally apologised to gay men who were convicted under abolished gross indecency laws. First Minister Nicola Sturgeon told the Scottish Parliament on Tuesday (November 7) that discriminatory laws that criminalised same-sex relationships were "completely unjust". Her apology coincides with the publication of new legislation that will provide victims with an automatic pardon. The new Bill will also allow men to apply for any convictions for same-sex sexual activity that is now legal to apply for it to be removed from criminal records. Ms Sturgeon said: "Those laws criminalised the act of loving another adult; they deterred people from being honest about their identity to family, friends, neighbours and colleagues; and by sending a message from parliament that homosexuality was wrong, they encouraged rather than deterred homophobia and hate. "Today as first minister I categorically, unequivocally and wholeheartedly apologise for those laws and for the hurt and the harm that they caused to so many. "Nothing that this parliament does can erase those injustices, but I do hope this apology, alongside our new legislation, can provide some comfort to those who endured those injustices." Homosexuality was decriminalised in Scotland in 1981, 14 years after England and Wales. Under the Historical Sexual Offences (Pardons and Disregards) Bill, anyone convicted of historical sexual offences that are now legal will be automatically pardoned but their convictions will not be overturned. People will then be able to apply for the offence to be disregarded, and ministers will have to decide whether the action is appropriate. Successful applications will mean their convictions will not be used in disclosure checks. Similar legislation, known as 'Turing's Law' after 20th century code-breaker Alan Turing, was passed in England and Wales in January. Justice Secretary Michael Matheson said: "Scotland is an open and tolerant society, committed to respecting, protecting and implementing human rights and demonstrating equality, dignity and respect in everything we do. "These discriminatory laws, although abolished, continue to have implications for people to this day and it is only right that we address this historic wrong, which criminalised people simply because of who they loved. "I am pleased to introduce this bill, which is an important step towards correcting that injustice." Kate Nevens, Scotland Programme Director for Amnesty International, hailed the announcement as a "positive step". She added: "Same-sex consensual acts should never have been criminalised in the first place, and imposing criminal penalties was highly discriminatory."