Police forces 'must reform the way they treat drug addicts'
Two decades of working with Northumbria Police have shown former drug addict George Charlton the  importance of adopting a public health approach to the drug problem.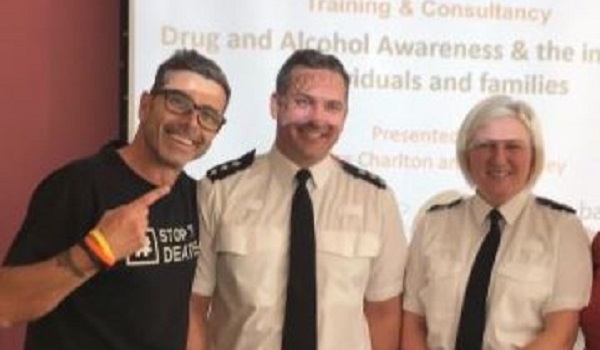 "It's time to change the narrative – stop demonising and vilifying the vulnerable."
That's the view of a former drug user who vowed to reform the way police forces treat drug addicts and has praised the 'foresight' and progressive attitude of Northumbria Police.
George Charlton, 47, first began working with the force almost two decades ago after a chance meeting with a forward thinking police drugs liaison officer.
The like-minded pair agreed to try to radically reform the attitudes towards some of society's most vulnerable who find themselves caught up in the cycle of addiction – and raise awareness of the issues they face.
"When I visited Byker Station to talk about how we would roll-out this new training I realised it was the first time I'd been in a station without handcuffs," he said. "I definitely held my own biases against officers and was weary of them because of my past and the fact I was often locked-up for shoplifting and drugs offences.
"I had quite a traumatic childhood and started smoking cigarettes and joints when I was about 14 and then moved on to MDMA, amphetamines and other Class A drugs. My drug of choice was everything – I just didn't want to be inside my own head."
Mr Charlton had only been out of rehab six months when, aged 28, he started delivering training and sharing some of his own deeply personal lived experience of substance abuse. He had completed a 12-month rehabilitation programme after his parents discovered him close to death having tried to take his own life.
It was during his stay in rehab that the South Tyneside native found his passion for education and his true vocation after completing two counselling courses.
"Until that point I had had no stability, I was lost and have been emotionally, spiritually and morally bankrupt," he said. "As a society we've been told we should demonise the most vulnerable people in our communities and I knew changing this perception was going to be my vocation. I had experienced 15 years of that mind-set and wanted to use my lived experience to shape other peoples' opinions.
"Before rehab I had no direction, I was broken and I wanted to die. I couldn't see a way out and I felt had nothing – the community didn't want me, my friends didn't want me, I only had my parents left and I knew my choices were making them ill – in fact I was killing them.
"When my parents found me after my suicide attempt I was detained under the Mental Health Act and went to rehab shortly after. I was terrified at first, but it was a real opportunity. Nineteen years on I'm still delivering training to police forces across the county – and what I want to say is if I can do this, so can anyone.
"I really have to say 'thank you' to Northumbria Police – their foresight and attitude back then shows how committed they are to this area of work. They were so ahead of the game – we're talking about two decades of training officers and new recruits using lived experience – it's a real progressive attitude.
"We all know you can't police your way out of the drug problems that are impacting our communities – yes you can take down the organised criminal groups selling them, but you also need education, awareness and a public health approach – this is where police are actually leading the harm reduction agenda and creating the meaningful change we need."
Despite challenges posed by the pandemic, Mr Charlton, who now has multiple degrees and an MA under his belt, has continued to work with the force and recently trained a new cohort of Drugs Expert Witnesses, who work across the force, to help calculate the value of seizures and understand the true impact substances are having on our communities.
He added: "I'm a passionate advocate for the underdog. I just want to give people impacted by addictions a voice and want to tell anyone who is struggling – if I can turn my life around and get an MA then others can too, if I can have a beautiful wife and children, you can too."
Detective Chief Inspector Paul Woods added: "Northumbria Police recognises the need to evolve and develop in the ever-changing fight against organised crime and drug-related offences.
"With George's help we have invested in educating our drugs experts and those investigating drug-related crimes so that we better understand the impact drugs can have on our communities.
"With that better understanding we are able to support the vulnerable and become increasingly effective in bringing to justice those who prey on the vulnerabilities of others and in some cases have historically been perceived as 'untouchable'."