Virtual insight into domestic abuse
The Metropolitan Police Service (MPS) is piloting the use of virtual reality (VR) to help frontline officers better understand the impact of domestic abuse on children, young people and survivors.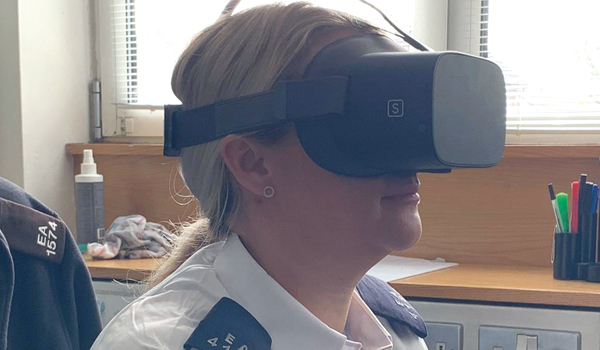 The technology from VR training specialists Antser gives officers the opportunity to "walk in the footsteps of domestic abuse survivors".
The pilot training programme was delivered to 48 frontline officers across the MPS to assist with its Domestic Abuse Improvement Programme.
More than three-quarters agreed that the VR training was more engaging than other types of training on domestic abuse.
And many said it had prompted them to improve their level of assessment and communication.
The MPS said the decision to pilot the VR training was part of its commitment to enhance officer practice at first and subsequent domestic abuse incidents.
A recent study by the University of Durham showed that the number of domestic abuse victims contacting support services in England doubled during the first three weeks of lockdown in March/April 2020, with the police receiving around 100 calls an hour relating to domestic abuse. The research found that at least one in four women, and one in six men, will experience domestic abuse in their lifetime.
Antser says: "Walking in the footsteps of someone experiencing domestic abuse has impacted health, education and social care practitioners over the last two years and this insight is now being made available to frontline officers due to the innovative thinking of senior officers."
Using VR as a tool to help bring to life the perspectives of children and victims through immersive storytelling, the aim was to enhance officers' understanding of domestic abuse and the expectations on them as first responders, while establishing the challenges they face and how they currently overcome them.
Officers were shown two immersive VR experiences – the first from the point of view of a baby in utero; the second highlighted manipulation of police officers by a perpetrator, minimising the impact of the abuse and its impact on the child – in a bid to encourage officers to think differently about their behaviour, responses and decisions when responding to domestic abuse incidents.
Following the training, 79 per cent of attendees agreed the VR training was more engaging than other types of training on domestic abuse while nearly half (47 per cent) said it had made them more aware of the impact on children and unborn babies and to change their approach accordingly. In addition, around a third (31 per cent) said they would now try to better understand other perspectives of abuse and be more aware of their attitude and behaviour towards victims, as well as spending more time with them following a call out to an incident.
Several respondents also said the training had prompted them to improve their level of assessment and communication; to make sure they were correctly documenting information to provide a "good picture of the environment" and to utilise sensational wording to better highlight the risk factors affecting vulnerable parties for other agencies to see.
Detective Superintendent John Carroll, head of the MPS Public Protection East Area BCU (EA), said: "This past year has heightened everyone's awareness and concerns around the rise of domestic abuse, and the Met understands and shares those concerns.
"We have been in a very fortunate position to be able to use incredible technology like Antser VR to assist with the Domestic Abuse Improvement Programme, which will be helping our frontline officers to better understand the impact of domestic abuse and to create a safer place for children, young people and survivors."
Richard Dooner, chief executive officer of Antser, added: "I am pleased that we are able to contribute to how policing responds to domestic abuse incidents. We have all learnt over the years the importance of responses to victims. Our VR programme is helping practitioners maintain their empathy when attending incidents.
"Our aim was to open up discussions about what police practice was yielding good results, but also how these results could be further enhanced and strengthened as a result of VR perspective-taking.
"We are incredibly pleased with the feedback so far and glad that the training has made officers rethink their strategies when called out to incidents of domestic abuse, ensuring the best outcomes for children and victims."
With more 30 years' experience, Antser uses VR to help organisations across both the public and private sector target several topical issues currently affecting vulnerable children, young people and adults, including child sexual exploitation, domestic violence, gangs and knife crime and youth justice.