Policing Vision
Technology and innovation at The Emergency Services Show.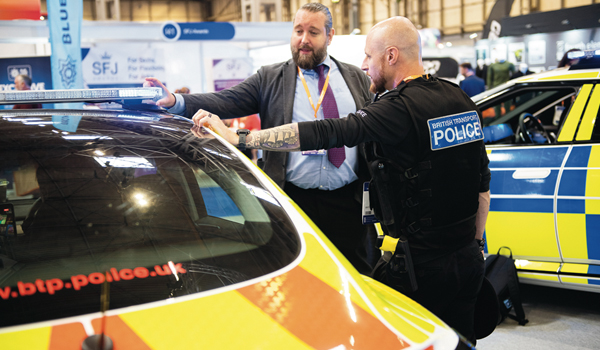 Taking place from September 19-20, The Emergency Services Show (ESS) gives a platform to the latest breakthroughs in the dynamic world of policing and the emergency services. It offers police professionals the perfect opportunity to discover innovative technologies, get hands-on with the latest equipment, and exchange best practice across the whole UK emergency services community.
Packed with a host of new features, this year's event offers police professionals even more to discover and learn. Occupying Halls 4 and 5 at the NEC, Birmingham, ESS is now co-located with The Emergency Tech Show, a new event that brings together every type of technology available today to assist the work of the emergency services and first responders including: digital transformation tools; artificial intelligence and machine learning for predictive emergency response; virtual reality training simulation; connectivity; wearable tech; cloud storage; control room solutions; software and apps; data analysis and resource allocation technology.
Also new for 2023, The Microsoft Partner Pavilion brings together leading technology companies, system integrators, and solution providers who have developed ground-breaking technologies to improve the efficiency and effectiveness of first responders. Microsoft Partners in the Pavilion include Kainos, Hitachi, Velrada, Node 4, HSO, CPS, Insight, Kin and Carta, Simpson Associates, Symity and Altia.
"Technology continues to evolve at a rapid pace, highlighting the pressure to modernise our current policing model and better equip our police force," says event director David Brown. "The Emergency Services Show and The Emergency Tech Show offer a unique opportunity for police professionals to access the latest innovative products and technologies, support services and expertise that are key to meeting the future demands of policing in the UK."
Former Commissioner of the Metropolitan Police, Service Lord Bernard Hogan-Howe returns to ESS to chair two days of seminars in the Policing Theatre. Lord Hogan-Howe will open with a keynote session entitled Policing Vision 2030: Where now and what next? He will offer key insights as police forces move towards the Policing Vision 2030, as well as introducing the highlights and debates of the event programme over the event's two days.
Another highlight of the Policing Theatre seminar programme will be Jo Noakes, director of Leadership and Workforce Development, at the College of Policing, who will present 'The evolving priorities of the College of Policing'. She will outline the college's current strategic priorities and key initiatives to support policing, ranging from leadership to culture and behaviours.
With the safe and effective use of data at the forefront of everyone's minds today, Edmund Pearson of the Cabinet Office will chair a session looking at 'What more can government do support a more effective use of data in policing?' The public, private and policing sectors need to collaborate to ensure that data is used to full effect, while not forgetting the human element at the heart of its operation and management.
Providing a forum for cutting-edge industry practices and fostering forward-thinking discussions, the Emergency Tech keynote seminar programme will bring important new conversations to the emergency services community.
In 'Cyber threats and sequins: lessons from Eurovision', Detective Chief Inspector Chris Maddocks, Economic and Cybercrime at North West Regional Organised Crime Unit, will cover the key considerations in bringing cybercrime into event response.
Robert Goldsmith, Mapping, GIS and Operational Graphics at Devon and Cornwall Police, will share how the force has used lidar scanners and drones in 'Cream teas and digital twins: Lessons from the G7 summit'. Visitors can also learn all about the College of Policing's new CyberDigiTools app from the college's Digital Intelligence and Investigation team leader Phil Tebbs.
All sessions are packed with practical guidance and valuable insights and are CPD accredited, in line with seminars across The Emergency Services Show.
The Tech Launchpad will bring together start-up companies to showcase cutting-edge solutions for the emergency sector. It will be the perfect place to meet future-shaping leaders in tech innovation and find out how the most exciting start-ups are approaching funding and scaling while tackling some the greatest challenges facing the blue light sector. A unique Tech Hub will also showcase the vital solutions coming from the pioneers of emergency services technologies.
With more than 550 leading brands represented, show visitors can source new products and technology from the leading names including Frequentis, SAAB UK, Bristow Helicopters, Havis, Amped Software, SSS Public Safety, Excelerate Technology, Blucher, Draeger, Dataminr, BlueLight Commercial, Heroquip and many more.
The Lessons Learned Leaders' Summit will delve into the profound takeaways from significant events of the past year. Chief Superintendent Jonathan Davies, head of Matrix and Force Operations at Merseyside Police, will be joined by partners from HM Coastguard and Culture Liverpool looking at multi-agency collaboration in 'When Eurovision came to Liverpool'.
Amy Wright, Coventry Policing Inspector at West Midlands Police, joins a multi-agency panel exploring how Coventry University and the West Midlands Training Exercising and Learning Group worked alongside the management team of a national-scale event to support the generation of interoperability between the public and private sectors.
The Health and Wellbeing Theatre will focus on addressing the physical and mental health challenges faced by police and other emergency responders. Christoph Spiessens, Mindfulness and Wellbeing Trainer at Escalla, will present 'Blue light mindfulness: Building resilience in high-stress environments'.
Unveiling a refreshed Collaboration Zone for 2023, this enhanced area will unite the emergency services, voluntary groups, charities and NGOs in a vibrant community to showcase their support and foster collaborative co-response and partnership initiatives.
Networking opportunities have long been one of the biggest draws at ESS and this year there will networking drinks at the end of the show's first day, taking place in the Hall 5 Networking Café.
Entry to The Emergency Services Show and The Emergency Tech Show are both free, as is parking. The NEC is linked to Birmingham International Station and Birmingham Airport and is directly accessible from the UK motorway network.
To register to attend, visit: www.emergencyuk.com