Focus on fraud
Levels of consumer fraud have increased sharply in recent years as criminals increasingly move their activities online. Tackling this means having to develop new approaches and processes, as well as new technology, as Ryan Oakes explains.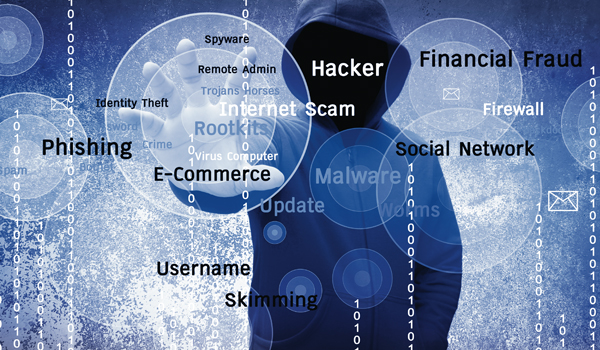 It is clear that the past few years have seen a rapid rise in digital adoption across all areas of society – from businesses and government through to consumers. A side-effect of Covid-19 and the resulting effects, such as lockdowns and remote/hybrid working, years of digital innovation that would have taken traditionally taken time to gain traction was instead accomplished in a few short months.
However, for all the positive results, such as improving productivity, expanded access to services and greater consumer connectivity, there has also been a dramatic increase in fraud directly targeting the general public.
As the pandemic gained traction, criminals turned to online and technology-enabled scams to exploit people's fears.
From impersonation scam cases, fraudulent emails claiming to offer government support and scam text messages requesting payments to book vaccines, to falsifying delivery companies to exploit the rise in online shopping – the past two years have seen increases across the board. To capitalise on the increase in online activity during the pandemic, there was also the emergence of criminals openly advertising fraud and scam services for sale online, including template phishing websites and custom-built scam apps, which replicate real banking apps.
A new report found that the growth in consumer fraud in the US and a number of other countries during the pandemic years of 2020/21 exceeded the total increase seen over the previous six years. What is more, fraud grew in variety as well as volume.
With more people than ever affected by the financial and psychological harm caused by fraud, police and public safety organisations are being forced to change tactics and operations to keep pace with criminals. The question is: What is the best way for them to move forward?
Success will be dictated by a willingness to update the approaches within three aspects of operational response to fraud: prevent and disrupt; collect and analyse intelligence; and detect and investigate
Ultimately, it will depend on the level of oversight the police force has (eg, national vs local), its operating model, the technology available for use, local laws and the breadth of partner networks. But most importantly, success will be dictated by a willingness to update the approaches within three aspects of operational response to fraud: prevent and disrupt; collect and analyse intelligence; and detect and investigate. This should boost four areas of opportunity relevant across the response framework, focusing on citizens, partners, the workforce and technology.
Prevent and disrupt
Given the speed, complexity, and international nature of most consumer fraud, it is important to focus on prevention and disruption. Here are some ideas:
Citizens – Education campaigns should be based on data analytics. As most fraud is carried out online, they should be deployed and run digitally, with a focus on the most vulnerable groups;
Partners – Collaborative efforts with partner agencies to fund activity and incentivise data sharing where possible. Roles and functions may need updating to forge relationships with relevant private sector organisations and to better tap social media, telecommunications, and financial institutions to prevent fraud;
Workforce – Work with partners and law enforcement agencies to upskill and build capacity. For example, enhanced cooperation between police and business can support prevention and disruption activities; and
Technology – Automation technologies can be used to accelerate fraud response processes, such as freezing accounts when a suspicious transaction takes place. Meanwhile, artificial intelligence (AI) tools can help investigators spot fraudsters targeting social media sites.
Collect and analyse intelligence
Improving intelligence (namely data) gathering and analysis should bolster identification of fraud patterns. Additionally, as the volume and impact of consumer fraud grows, meeting the challenge of collecting and analysing larger volumes of data to disrupt and detect fraud remains vital. Example initiatives for agencies include:
Citizens – Help people report fraud through their channel of choice, assess vulnerabilities, and provide advice to reduce harm and try to minimise repeat victims. Ideally, citizens should only have to report fraud once, through a single point of contact reaching public safety agencies and relevant partner organisations;
Partners – Connect intelligence gathering with agencies and private sector partners at a national and international level to improve understanding of the threat landscape. Multilateral organisations, such as Interpol, can at times help by providing intelligence and support to fill gaps in agency programmes and data;
Workforce – Look to automation to help reduce the burden of repetitive, high-volume, administrative tasks. This will enable staff to analyse larger volumes of data using a range of visualisations, improving employee experience, and increasing engagement; and
Technology – Apply new and emerging technologies to advance intelligence and analysis. In particular, AI and advanced analytics, enabled by the cloud, can help agencies keep up with threats across all parts of the digital world, including the dark web.
Detect and investigate
Detecting potential incidents of fraud and gathering evidence for prosecution is a core activity for specified public safety agencies. However, given the volumes of fraud this is an increasingly tough mandate to fulfil. The following steps could help:
Citizens – Agencies should consider communicating with fraud victims throughout an investigation, providing updates on how cases are progressing and outcomes achieved. Such communications would also ideally help reassure victims that they are safe;
Partners – Connected policing investigations should be conducted to maximise shared resources and ensure seamless coordination of cross-border investigations. Here, existing organizations (eg, Interpol) offer useful platforms for collaboration, as can relationships with private sector partners through apprenticeships and work-exchange programmes.
Workforce – By providing ongoing skilling opportunities around fraud investigations, agencies can help attract and maintain talent, while also improving investigation quality. Additionally, agencies should consider the engagement of civilians to augment police resources for specialist capabilities and to support investigations; and
Technology – AI and machine learning technologies offer important capabilities to help automate case prioritisation and identify lines of inquiry. By using common data models, cloud and APIs (application programming interfaces) to enable interoperability across systems, agencies will be able to better connect investigations and facilitate rapid sharing of insights and developments with their partners.
With consumer fraud increasing rapidly, there is a clear need to address the challenge with greater urgency. That means developing new approaches and processes covering citizens, partners, workforce and technology to support the anti-fraud missions of public safety agencies.
Consumer fraud represents a significant threat to citizens, to trust in public safety agencies and ultimately to economic and national security. Dealing with it must be a collective priority for government, public safety agencies and their citizenry and relevant business partners and there are abundant avenues to do so more aggressively and effectively.
Ryan Oakes is Accenture Public Service global managing director and leads Accenture's public sector work around the world. He has been with Accenture since 1997, serving government agencies at the national, state, county and city levels as well as some of the largest universities and non-profit organisations in the world. He helps organisations reimagine and redesign services for the digital age, design and implement mission-critical delivery systems, and drive change across programmes, workforces, technology and operations.