Dare to share?
As hybrid working concretes itself into the modern public sector, we find ourselves in a world where collaboration among individuals, organisations, sectors and locations is more important than ever, as Katherine Allenby explains.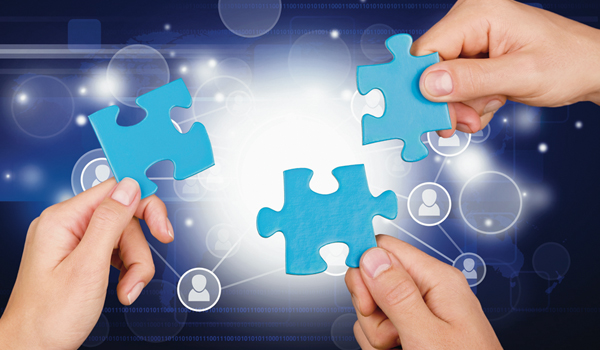 Generally, government agencies have adapted to collaboration to varying levels, but there are still areas of disconnect. Nationally we have seen communication via virtual means that brings together disparate skill sets and knowledge from various teams to achieve a common objective, exploiting different functions to respond to operational requirements and changes in crime trends.
Remote working enables organisations to employ the most skilled and appropriate staff from any geographic area to accomplish any task.
This, however, means managing from a distance and little personal contact, potentially leading to a disconnect in teams and reduction in sharing of information.
While collaboration has been explored and developed for a number of years in the law enforcement environment, there are still challenges.
Forces and regions have recognised the importance and benefits of sharing intelligence, data, and resources. An effort to reduce duplication of effort, costs and inefficiency does, however, require breaking down a large number of barriers, physically and technically.
Police forces and agencies which have collaborated have realised financial and efficiency savings, plus targeted criminals more effectively by having a full picture of all available intelligence.
However, these marriages are not without arguments due to differences in culture, behaviours, and common working practices, mainly in IT infrastructure.
Law enforcement have national databases which are providing emerging capabilities to share intelligence. These are still limited in the volume of intelligence gathered through dynamic online research and enforcement and is reliant on officers submitting their findings as soon as it is obtained.
Every investigation or interaction with the public has some form of digital or open source line of inquiry, these opportunities are still not maximised. There is no central pot for all government agencies to collaborate in with regard to the rich information obtained online.
For example, a financial investigator in one organisation would not necessarily know that a subject being investigated for tax fraud is also the principal member of a drugs organised crime group being targeted by another organisation in a separate geographical area.
Online research around a vulnerable female who is found in a brothel in one county might have already been completed by a number of agencies.
Even within a team, shifts may work on the same subject with limited ability to easily share online research without the need for prolonged handovers or reports. Unless this key information has found its way onto an internal intelligence system, each investigator starts from scratch.
Information obtained online is now central to the vast majority of law enforcement operations, and the internet is investigated by an array of roles within forces and agencies.
Both victims and criminals have online digital footprints holding key openly available information that can ultimately change the outcome of an operational decision.
If the decision-makers do not have the full picture, they cannot plan and execute a rapid response, locate and catch offenders, inform and protect officers and ultimately protect the public. Unless staff are trained adequately on how to locate that data and input it into a shared system, it cannot be widely accessed, and agencies may continue in silos.
Lawfully and securely shared information, intelligence and data across law enforcement and partner agencies have obvious limitations, but there are numerous case studies proving that sharing enables successful outcomes.
Criminals do not recognise county or national boundaries, so they can conduct crimes across borders in relation to missing people, child sexual exploitation and abuse, acquisitive crime, online fraud, cybercrime, and extremism.
Essentially, the contribution of relevant online information and open data from a wide number of agencies and sources provides a more enhanced picture that organisational and operational decisions can be based on.
Collaborating will mean a shift in culture and behaviour. With clear communication from the top down, back up, sideways, externally and internally, staff will be trusted to explore by themselves, seek solutions individually, develop and gather information using their own initiative to finally share with confidence.
Ultimately, with clear communication of a group's collective culture, aims, roles, trust and technology collaboration will lead to sharing of vital open-source information and skills, which will improve operational effectiveness.
There is not necessarily a requirement for a huge project and consultancy. The information is out there, it just needs a sharing platform.
An agency can invest in tools to enable internet investigations and joint working; however, it is the individuals who make a team and tick the button to 'share'. Sharing really is caring – for victims and communities.
Katherine Allenby is an intelligence consultant at Collaboraite. She has has 15 years data analysis experience in law enforcement and a strong leadership plus logistical planning background from the British Army.