Anonymous reassurance
Ella Rabaiotti looks at the work of Crimestoppers, the charity providing an anonymous link between the public and the police for 35 years.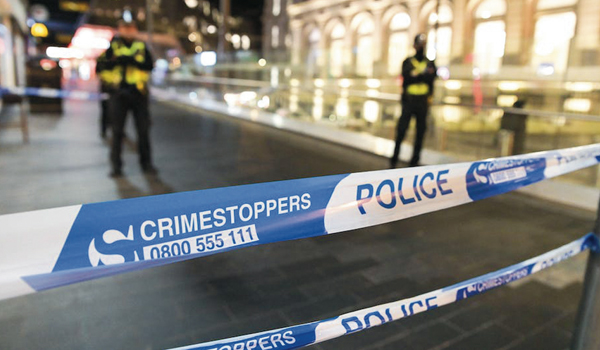 Crimestoppers, the crime-fighting charity, has been an anonymous link between the UK public and the police for 35 years. From everyday concerns about drug dealing and dangerous driving to taking critical information on murders, Crimestoppers receives more than half a million reports each year.
But despite its ongoing success, there has been very little research into the inner workings of the charity. My own study found the anonymity offered by Crimestoppers enables people to come forward with information about violent or organised crime. In fact, this can be more of a motivating factor than a reward.
Originating in the US in the mid-1970s and replicated across the globe, Crimestoppers programmes often offer cash rewards for tip-offs. The UK charity was originally established as the Community Action Trust in 1988.
It was largely in response to the death of PC Keith Blakelock during the Broadwater Farm estate riots in London in 1985. At the time, police said that someone knew who was responsible for his murder, but were too afraid to come forward.
While in England Crimestoppers was set up to address community mistrust and loss of confidence in policing, it was advertised differently across the rest of the UK. In Northern Ireland, residents were told to phone "without fear and without involvement". And in Wales and Scotland, Crimestoppers has been framed as a friendly community service.
Embracing television reconstructions has been critical to the growth of Crimestoppers across the world. Research suggests that media appeals in general can assist with solving crime in a small number of the most serious cases.
Contributions from appeals for information are thought to have helped bring some notorious criminals to justice. Serial killer Peter Moore came to the police's attention in 1995, following an anonymous tip-off.
And a Crimestoppers reward was offered for a violent robbery carried out by John Cooper in 1996. In 2011, he was eventually convicted of murdering four people in Pembrokeshire, Wales, as well as many other serious offences. Evidence from a string of burglaries and robberies had led police to suspect he was responsible for more serious crimes.
However, the extent of Crimestoppers' support in solving such crimes is largely unknown due to the organisation's guaranteed promise of anonymity. A study by the Home Office 20 years ago outlined the benefits of the UK scheme, showing 17 per cent of actionable information resulted in an arrest.
Nowadays, some insight is detailed in Crimestoppers' annual reports, which include outcomes of awareness campaigns and "most wanted" appeals.
During the course of my research, I discovered the charity has a strong relationship with the police, unlike the people who contact Crimestoppers.
Due to being unable to speak to anonymous callers themselves, I interviewed contact centre staff to gather their views and experiences. I also spoke with police officers who deal with Crimestoppers reports, as well as community-based officers who are often faced with people unwilling to report crime.
Participants suggested perceptions of fear and injustice impact on whether crimes are reported, especially in some close-knit communities. For example, a neighbourhood officer told me that sometimes generations of people are unlikely to go to the police, including members of his own family:  "My grandmother, she's the font of knowledge in the village where she lives, she wouldn't be going to the police as a first port of call."
An independent policing review last year found that public confidence in the police has declined while the fear of crime continues to be a rising concern. This is particularly true for those living in deprived areas and people from minority ethnic backgrounds. Crimestoppers' own survey also suggests those groups are the most likely to contact them.
The digital age
One of the biggest changes over the past 35 years has been the move to online crime reporting. According to its own figures, Crimestoppers states 75 per cent of information passed to the police now comes via its website.
There are often confidential police helplines for specific crimes (for example, domestic violence and hate crime), but Crimestoppers remains the primary anonymous crime reporting mechanism. One study suggests Crimestoppers supports crowdsourcing of so-called "collective intelligence" through social networks, and this acts as a driver to online reporting.
In 2019, Crimestoppers was criticised for using cookies on its website, which allow for users to be tracked. But the charity maintained that it does not monitor individuals either online or offline.
It also remains unclear whether Crimestoppers' offer of cash rewards has stood the test of time. My research has mirrored previous studies demonstrating that while police officers see a use in rewards, their availability is a motivating factor in only a minority of cases.
Perhaps the greatest value of rewards is in raising public interest within a busy media landscape. Crimestoppers recently offered its biggest reward of £200,000 in connection with the murder of Olivia Pratt-Korbel, the nine-year old girl who was shot in Liverpool in September 2022.
Ultimately though, it is the reassurance offered by Crimestoppers' anonymity guarantee and fuss-free participation which supports people in making reports, and enables the police to receive information they may otherwise have not received.
Originally published on The Conversation – https://theconversation.com/uk
Ella Rabaiotti is a lecturer in Criminology at Swansea University. She is a former Probation Officer and worked for Crimestoppers Trust between 2016 and 2021.