Achieving accreditation
In October 2020, Bedfordshire Police, Cambridgeshire Constabulary and Hertfordshire Constabulary became the first forces to gain accreditation for volume crime scene examination. The senior leadership team responsible share the insights they gained along the way.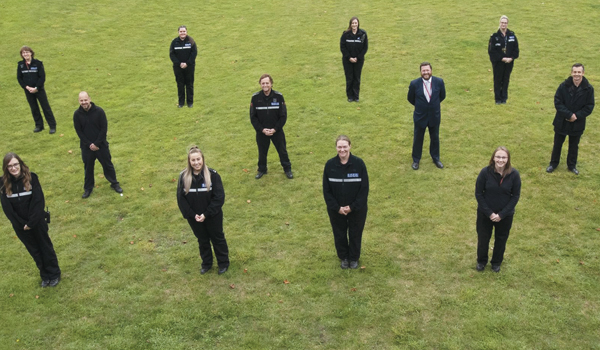 The tri-force collaboration between Bedfordshire Police, Cambridgeshire Constabulary and Hertfordshire Constabulary sees the three forces share resources across a number of key sectors, including major crime, roads policing, forensics and firearms.
Although the tri-force scientific services unit is fully collaborated and operates across all three counties, the location where the initial ISO 17020 accreditation has been achieved is at Hatfield, Hertfordshire.
The accreditation process requires forensic units to demonstrate their impartiality, the suitability of their methods and processes, the suitability of the equipment they use, and the technical competence of staff involved.
More specifically, assessments for scenes of crime work not only include a review of any testing procedures, but also the manner in which scene strategies are set, anti-contamination measures are adopted and how the integrity of items collected can be assured.
Accreditation of crime scene-related activities provides additional confidence not only to the forensic units, but also those undertaking subsequent forensic testing of items collected at the scene, adding strength to the whole chain of evidence.
With the October 21 deadline set by the Forensic Science Regulator to achieve ISO/IEC 17020 fast approaching, the senior leadership team from the Bedfordshire, Cambridgeshire and Hertfordshire tri-force scientific services unit have shared their insights into the process so that other forces and regions can see what it takes to get there.
"The first job was developing standard operating procedures, or SOPs," said Mark Watson, forensic manager and ISO programme lead.
This involved assigning various principal scenes of crime officers (SOCOs) to develop each SOP, and a nominee from each force to work with the lead author. SOPs were consulted on with all staff, giving them an opportunity to input into the processes, before procedures were agreed and issued.
The next step was the most significant: validation. "This meant proving the technical activities in our SOPs actually worked," said Mr Watson. "Essentially, we were undertaking scientific experimental activity to quality assure our processes. It is such a huge amount of work that it needs to be distributed into the team. In the end, we had a third of our workforce engaged in some aspect of validation over a nine-month period.
"We also had to ensure everyone was competent in validation. It was a big piece of work which took around a year. There are so many technical activities, anything from using fingerprint powders and then lifting or photographing prints, to casting footprints from soil. Overall, there were 21 different areas we had to assess for all 90 people."
Most aspects of the accreditation process are hugely technical, requiring forensic units to show their impartiality, competence and suitable methods, processes and equipment, but somewhat surprisingly, the tri-force team says it main focus was on the mindset and culture change involved.
During the journey to accreditation, the priority of the team was to ensure all staff owned the change, rather than feeling it was being done to them.
"It takes significant cultural change to deliver what we've delivered, and mindset and buy-in from staff," said Michael Hanlon, portfolio lead for crime scene examination. "Rather than writing-off a centralised group to deliver it, we made a conscious decision to engage as many practitioners as we could and spread jobs as equally as possible. It wasn't a case of five people written-off for two years. Involving everybody was key.
"The Forensic Science Regulator says forces should expect a 20 to 30 per cent uplift in work to secure accreditation, and of course people see this coming on top of work they've already been doing year after year, so it can feel frustrating. But from the outset we didn't want our people seeing it as bureaucracy, something cumbersome and unnecessary. It isn't a tick-box exercise. ISO accreditation doesn't come on top of the day job: these ways of working are the day job."
Stuart York, the principal SOCO at the Hatfield site, also emphasises how much of a team effort the project was.
"The whole thing is centred around lots of teamwork and communicating with each other," he said.
"The supervisors understood what we were trying to achieve and over the last couple of years have involved the whole team to help them understand it too. It's human nature that you enjoy the job more if you own your piece of work, so we gave individuals in the office specific pieces of work."
It was also vital for the senior management team to be flexible, open to feedback and be acutely aware of the pressures on their teams.
"We had to listen carefully to feedback when trying to put things into practice," said Mr York. "It's about getting our people at a technical level to interpret things discussed at a higher level. We are always looking for them to come up with new ideas, as they're at the coalface and testing the processes: if anyone will come up with ideas, it's them."
Mr York also noted the fact that some small nuances in language can be surprisingly effective in making big changes in people's mindset: "Everything ISO does is about quality. What worked well was getting away from the term ISO itself, and calling it quality instead, because quality is at the heart of what we do. For example, if someone questions a technique, we ask 'how does it affect the quality of work you produce?'"
By the time the national accreditation body UKAS visited the site, the team had developed an impressive positive attitude towards quality and understood the importance of delivering a product fit for the criminal justice system.
"What assessors appreciated was that we didn't take shortcuts," said Mr York. "A lot of processes now take longer but give the organisation better reassurance that the right evidence is being provided. The quest is professionalising our occupation. When we record errors, it isn't about catching people out, it's done in the quest for quality."
With Hatfield accredited and the team confident in its quality management system, the tri-force scientific services unit now aims to have its Stevenage, Cambridge, Peterborough, Luton and Kempston offices assessed, although the Covid-19 pandemic means UKAS is unable to carry out any on-site inspections at the moment.
Frustrating and awkward – but a positive step forward
In her final annual report, published in January, the outgoing forensic science regulator, Dr Gillian Tully, acknowledged the high levels of difficulty and frustration involved in achieving accreditation.
While praising the Bedfordshire, Cambridgeshire and Hertfordshire collaboration, Dr Tully noted that elsewhere, the progress towards compliance with standards for incident scenes has been slow, although it ultimately proves to be worthwhile.
"Experience to date has shown that while it has taken significant time and cost to build, test, implement and maintain the quality system, it delivers an improved framework for management of CSI services, improved consistency and accuracy of output and improved technical processes," she wrote.
"This results in enhanced professional standing, more consistent training and better understanding and minimisation of contamination.
"That understanding of contamination has led to rejection by forensic services teams of poorly seized or handled items from police customers. Although rejection of items can make police customers feel that they are being less well served, it serves the interests of justice overall.
"Crime scene investigators themselves have found the process of adapting to standardised processes challenging and the processes for note-taking lengthy and awkward. Adapting to formal competence assessment, in which errors or sub-optimal practice are part of the development and learning process has been stressful and frustrating for experienced practitioners.
"Taken as a whole, the feedback from Bedfordshire Cambridgeshire and Hertfordshire is that the steps taken to implement quality standards and gain the requisite accreditation represent a positive step forward. There will inevitably be further improvement over time."
Dr Tully highlighted the field of image comparison as one that was performing especially badly, noting: "There has been little improvement in the position on compliance among image comparison experts, none of whom hold the requisite accreditation… it is crucial that image comparison, which is frequently used in evidence, is conducted on a sound scientific basis; examples of poor practice are numerous and the risk of miscarriages of justice remains."
Dr Tully also expressed concern that digital media investigators (DMIs) have not made any "significant steps" towards implementing the required quality standards, adding: "In some police forces, DMIs appear to have aimed to remain separate from their digital forensics colleagues, presumably, in some instances at least, in an attempt to avoid the adoption of quality standards."